An expat in Australia - Brisbane
Brisbane, the most underrated city in Australia - According to me.
When I first started to plan my trip to Oz, my Australian friends would all say, 'Go to Melbourne, you'll love Melbourne.' So, off I went, and I did really like Melbourne, but I loved Brisbane more!

If you're only passing through for a day or two, there's a lot to miss. Compared to Melbourne, the city is quite spread out; winding along a snakey river. But, when you know where to look, the views are breathtaking!
The view North of the River from the top of Kangaroo Point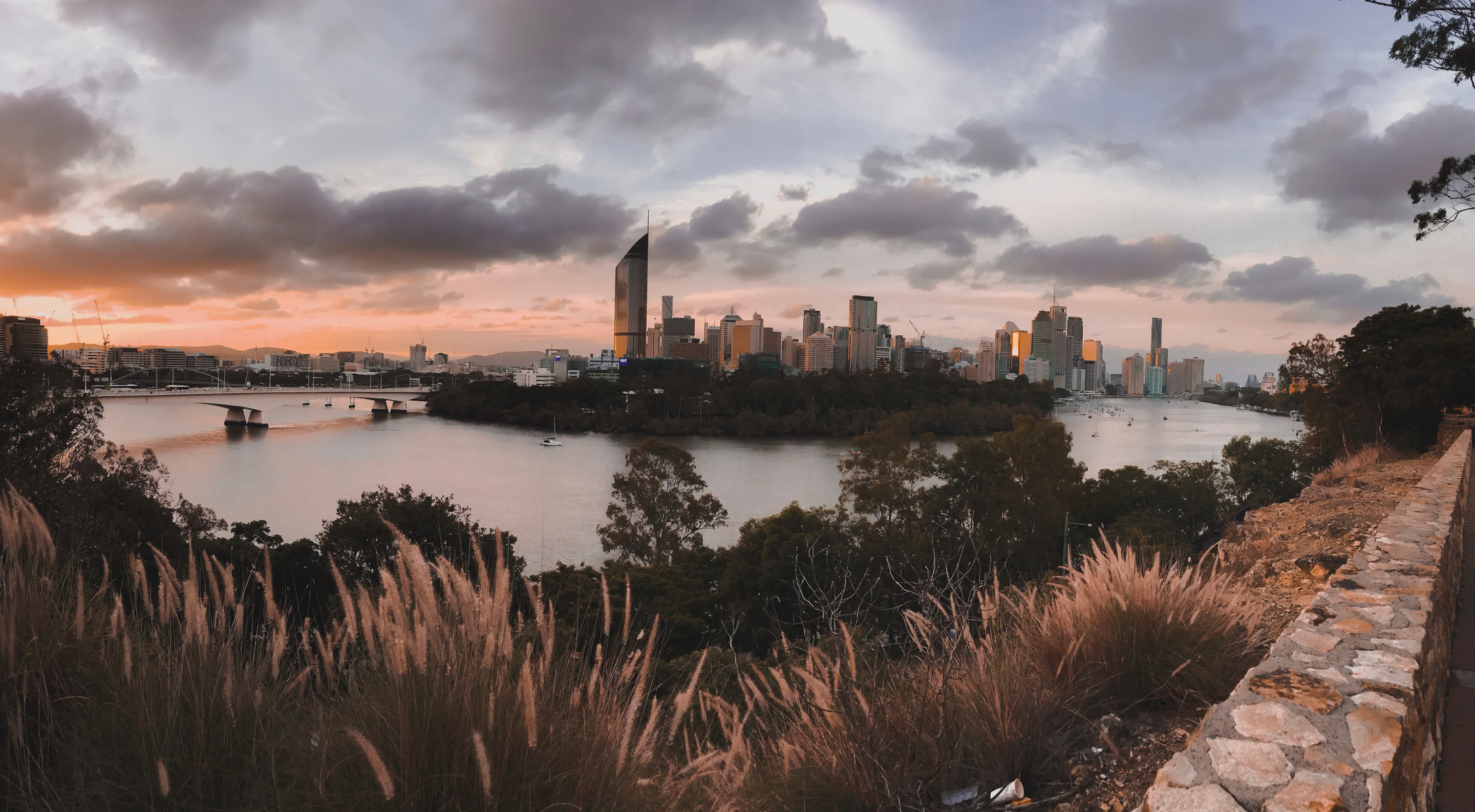 I first moved to Brisbane as summer was about to begin. I'd landed a house sit with trustedhousesitters.com for 6 weeks over the Christmas holidays! Brisbane is a city where living like a local counts. You get to know the sights, the people and make friends like you've been here all your life. And of course. You haven't experienced Australia at all until a bin chicken (Ibis) has stolen the butter from your BBQ!
Brisbane was my home for 5 months, and host to a plethora of emotions and memories. Feeling like I'm growing, growing like a snowdrop through a frosty winter. Sometimes waking to glorious sunshine, other times trapped beneath a morning frost. Some memories we hold onto for life, and I have a lot to thank for from Brisbane. Building a lifestyle is easy here, and there's a tonne of expats living in the city. Which means there will always be a kindred spirit to show you around or join you for a coffee.

Eat Street Food Market

In the summertime, it seems the whole of Australia flows at a leisurely pace, it's too hot to do anything too quickly! I found this out the hard way. When I gleefully turned up in November hoping to get a job in a cafe. Only to realise a lot of places were still closed for the holidays. Fortunately having no job yet meant that I had time to explore the city to my heart's content. With a trusty Ute (pickup truck with windscreen wipers and indicators the wrong way around) at my disposal. I set about exploring and enjoying fond moments with friends.
Christmas in Summer is a happy phenomenon! The holidays are a great time to be here, as daily events and shows start. Nothing says Christmas like sitting on the sand and watching Elf hey?

Brisbane's Best Views

As the hot, lazy days faded into autumn. I finally bagged work as a receptionist south of the river, and so my chapter in Brisbane began! With a few dollars in my pocket and a hoard of newfound friends. I was ready to see what Brisbane was like as a hometown. (Travelling solo sometimes gets super lonely. But it's easy to find fellow kindred spirits to lift your mood.) There are so many groups on Facebook of people residing in cities and looking to hang out. Some other good options are couchsurfing .com and Meetup! Check out what your city has to offer, one day I might see you there!)
I was not disappointed when it came to epic viewpoints. Brissy is known for its lookouts, a joy to the eyes on any given day.

Viewing the city from Mt Coot-Tha Lookout
Wilson's Lookout over the Story Bridge
The view of the city from Kangaroo Point Cliffs

Living south of the river, Kangaroo point became one of my favourite haunts. I bought myself a cute little bike to ride around town. Enjoying the ethereal sunsets blasting golden rays across the city every evening.
If you don't own a bike, there are many rentals spots around the CBD and Brisbane is a city bike spot! You can pick up a bike, take it where you need to go and alight at the nearest drop off point. (I LOVE cities that have this network, we used them in Norway and it was a huge bonus to our trip.) It was also a super fun way to see some of Brisbane's popular street art.

Getting around the city is pretty easy. As well as regular buses, there are ferries called CityCats. Moving up and down the river all day, and even a FREE ferry called the CityHopper. You can tell which one it is as its bright red. There are two that cross paths all day from the north side next to the Victoria bridge. Up past the spectacular Story Bridge on the other side towards New Farm.

On those rare rainy days in Queensland, Brisbane does not disappoint. My favourite sulky day venue; or even an excuse to get away from the summer heat, has to be the GOMA, Museum of Modern Art. It was the 10 year anniversary during my stay, so I was lucky to see some of the most inspiring art and installations. This taxidermy deer was beyond beautiful, I kept returning to it and staring for what felt like hours. It was a true spectacle. Two taxidermied deer are almost 'pasted' on top of each other. Covered in transparent marbles of varying sizes. Giving the idea of a pixelated Digital image In sculptural form.

A crystal-encrusted taxidermy deer sculpture by Kohei Nawa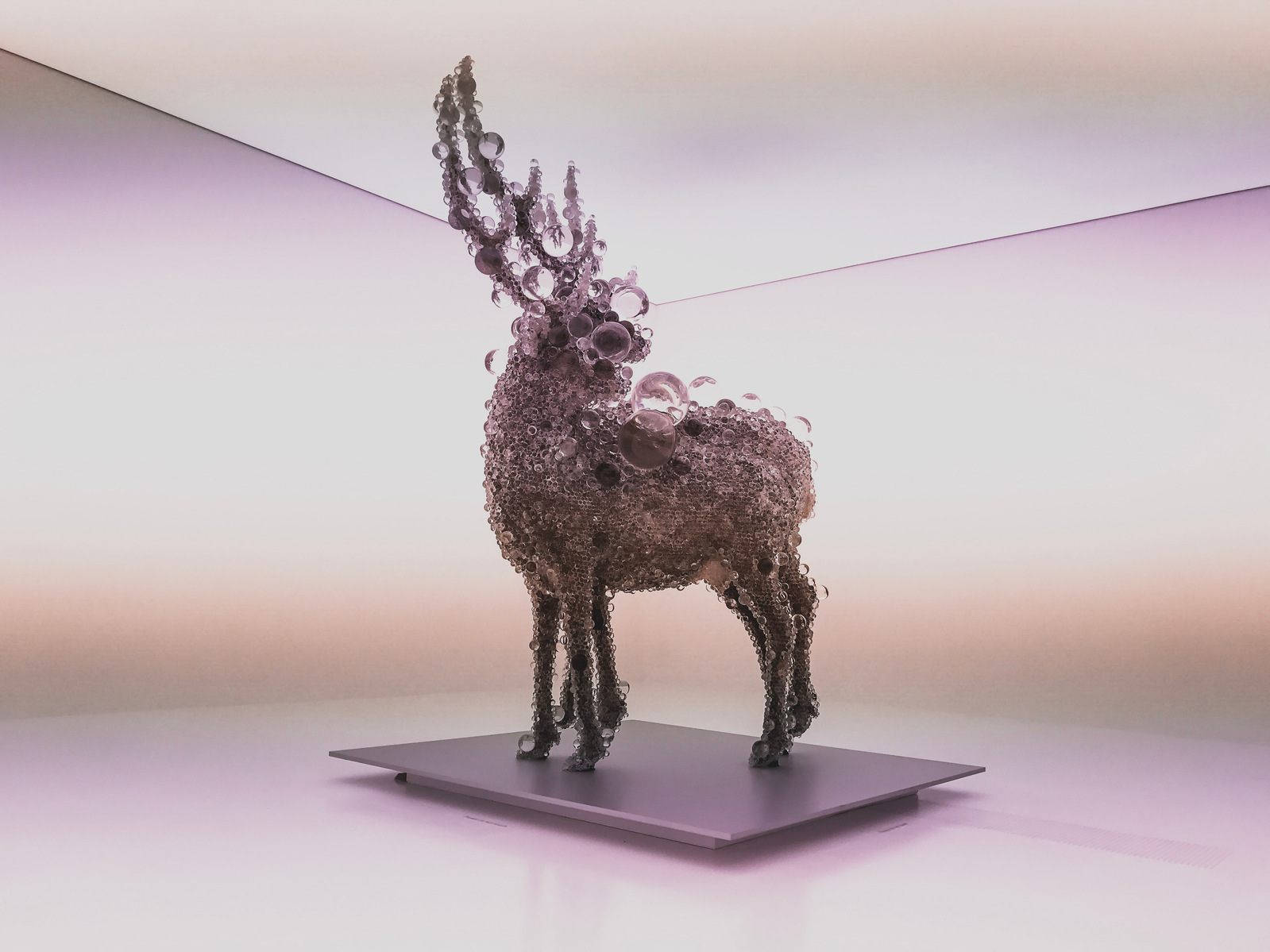 Another favourite was a room full of coat hangers and finches. Sounds insane, but the gentle musical sounds and ambience of the birds flitting around was magical. Each species of finch was on the endangered species list. So it was awesome to raise awareness whilst in progress. (The installation was temporary and well-executed. Usually, animal tourism is big on my list of nopes, and I hope to share more on the topic later.)

From Here to Ear, by French artist Céleste Boursier-Mougenot
A few years ago, Japan started its craze of animal cafes. Most people live in small apartments and aren't allowed to keep pets. So, the first cat cafes popped up to provide the people with a bit of relaxation time and a handful of fur. Brisbane has its very own, it's called Cat Cuddle Cafe (read more about it here.) This cute little haunt ran by volunteers. Every one of the adorable furballs are available for adoption. So many cats, It's a shame I can't take all the cats around the world with me!

Cats! Brisbane Cat Cuddle Cafe

In every city I visit, I seem to be on a quest to find the best burger. The foundations of the obsession remain unknown to me. Being a budget traveller, I don't eat out very often. So finding the perfect spot quickly and efficiently is high up on my to-do list. My favourite burger joints in Brisbane have to be Getta Burger! And Miel Container. You can find three Getta spots around the city, and Miel Container is right in the centre.
Australian's are real foodies. There's no shortage of eateries and dining experiences in every city. Eat Street Market had my custom on multiple occasions. Devouring oriental foods from around the globe. When it comes to dessert, I certainly do not have a fully stamped loyalty card at Mr Fitz ice cream parlour. Serving loaded ice cream cookies with UNICORN SPRINKLES…

Piggy Back Cafe Rainbow Lattes

My Brisbane life might be over, but it will always hold a happy place in my heart. It has everything you need for a contented lifestyle. The Queensland sunshine, perfect beverages, spectacular views, fun-packed activities, and some of the most humble people around. I also experienced some of THE BEST day trips out of the city, more of that to come.

Brisbane, see you soon!