If Japan, travel, and islands are already catching your attention, what happens if you add cats, rabbits, and deer to the mix?! Here's my breakdown of animal islands in Japan.
Animal Islands in Japan - A Travel Guide
Okunoshima - AKA 'RABBIT ISLAND' - Hiroshima's Best Secret
What comes to mind when you hear the words 'Rabbit Island'? I'm guessing it's the same thing for most people - an island covered in rabbits. That's exactly what you will find when you alight on the sandy shores of the delightful Okunoshima, an island off the coast of Hiroshima prefecture in Japan. If you have an intense fear of our furry long-eared friends, you might want to stay at the hotel. For the rest of you, come with me on a journey into legend, mystery, and… carrots.
Okunoshima is popular with tourists and Japanese people alike. Since it's notoriously difficult to keep pets in apartments in the cities, the Japanese love to experience animals in the wild, and there has been a major surge in the popularity of animal cafés in Japan over the years.
The Myth of Okunoshima Island
There's a mysterious island between Hiroshima and Shikoku that hides a dark past. The place was even removed from some maps to prevent any unwanted questions. Or any curious soul stumbling upon the shores and attracting unwanted attention. An island lonely at sea, devoid of a single resident, was the perfect place to set up their illegal factory. Heres's where it gets dark…
World War II left its mark upon this picturesque island, and a poisonous gas factory was built in the middle. The purpose was to produce chemical weapons for the war with China. It had to be top secret because Japan was in alliance with the signatory Geneva Protocol which strictly prohibited the production of tools for chemical warfare.
To test the poisons and chemicals, rabbits were brought to the island as the unlucky victims. For sixteen years the experiments went on, the rabbits subject to horrid conditions and questionable practices. Workers on the island were sworn to secrecy, but somehow, the word got out.
Legend has it that a bunch of school children made it onto the island and set the rabbits loose. Not a lot is known about the true history of the escape. Who were these children? How did they know about the rabbits? How did they make it unseen onto an island out at sea with military security?
The true story is lost in time. But whatever happened, the rabbits got out, and when the last of the humans finally left and the factory left abandoned, rabbits did what rabbits do best - multiplied!
Nowadays, the island is home to thousands of free-roaming bunnies. They rule the lands, the seas, and the places in between. Visitors to the island are merely a tool for an afternoon buffet. Providing an endless array of snacks as they come and go daily in this strange citadel of rabbits.
The gas factory now lies in ruins, left to the elements. Crumbling into decay yet leaving such beauty; nature takes back what was once hers. (Which also makes for perfect Haikyo exploration if you're into that sort of thing.)
Visitors come from far and wide to enjoy the island, and the bunnies have no complaints either. No amount of carrots and cabbages could ever be too much. As soon as we stepped off the ferry, the rabbits were there to greet us (well, to greet the two full bags of lettuce we had brought with us, the cheek.) They are well tamed due to receiving so many visitors, and unlike most house pets, seem to not mind crawling all over you to pick lettuce out of your hair. I was ecstatically happy on Okunoshima Island. Cuddles with fluffs are the best kind of cuddles.
Rabbit Island is one of my biggest bucket list of adventures! I would recommend it anyone, bunny lovers or not, and the old ruins are a photographers delight. The island itself is beautiful, full of hiking trails and nature spot. You can also hire a bicycle and do a full loop of the island. Taking in some quite marvellous beaches and scenery, not to mention the magnificent 360-degree views of the Seto Inland Sea. It's certainly one for the bucket list on your visit to Japan.
The ferry takes 15 minutes from Tadanoumi Port to Okunoshima Island and is (Adult ¥300, Children ¥150 one way)
Ferry Timetable -
*Check any updates Here (Google translate)
Stay at the hotel -
Kyukamura National Park Resort Okunoshima has more information about walking tours and bike rental on the island too!
Camping -
Should you wish to brave the darkness with a thousand furry beats, there are options available to camp on the island. It's an interesting place that affords some extra time. As well as the hoards of fauna, there is the fascinating museum (opened in 1988) that informs about the consequences of poison gas and it's depictions in history. There are some pretty gruesome images of bodies affected by poison gas in the second room.
If you're visiting in late spring or early autumn, the weather should be perfect for an overnight adventure.
How to visit Okunoshima Island -
Prepare Your Snacks - Head out to the 7-11 and pick up everything you need. Onigiri rice balls make a great treat for yourself, and the rabbits prefer carrots and vegetables.
How to Travel to Okunoshima - Okunoshima is easy to access from cities like Hiroshima and Osaka. Take the shinkansen bullet train to Mihara Station, then transfer to the local line to Tadanoumi Station. If you take the local line, it's about 2 hours from Hiroshima and costs around ¥1280-¥1500 one way. Tadanoumi is the port town is the base where you'll catch the ferry to the island. It's easy to find as the arrows lead straight from the train station. The ferry drops you right at the entrance to the island, and the rabbits won't be far behind.
When To Go - Spring is always an excellent time to visit Japan as the glorious cherry blossoms come into bloom. Making it an extra beautiful time to visit the island. Things get a little heated in the summer, so autumn is another perfect time. Plus, the autumn leaves will be bursting into colour. Win-win.
Loving the sound of the weird and wonderful adventures you can have in Japan? Start planning your adventures now - Japan Travel Guide.
The Isle of Deer - Miyajima and Nara Park
Nara Deer Park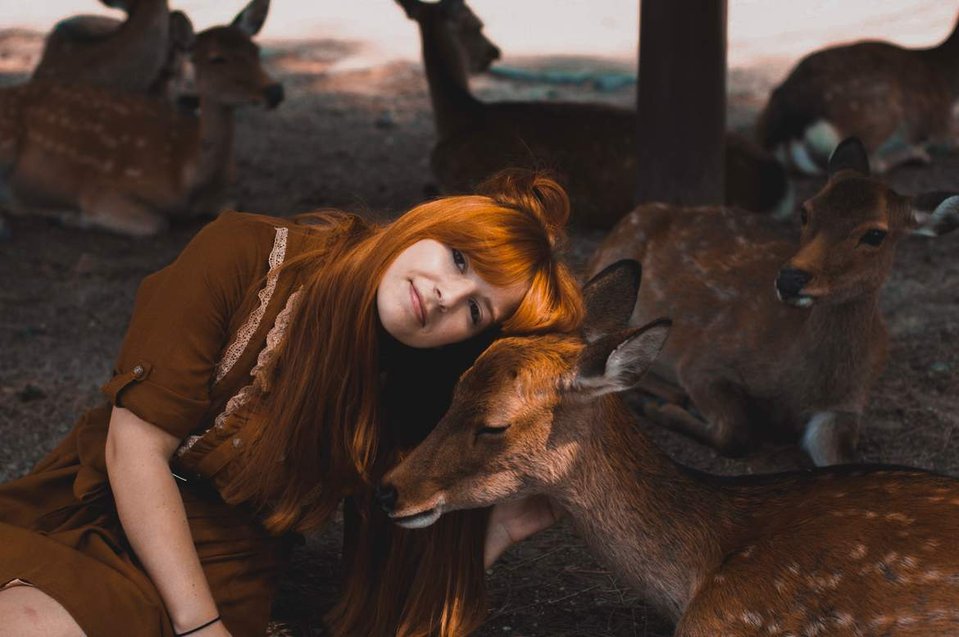 Nara is a historical treasure, home to one of the largest temples in Japan: The magnificent Tōdai-Ji temple with its giant bronze Buddha. In spring, the entire province bursts into colour and beauty with a million cherry blossoms. It's one of the best places in Japan to witness Sakura season, with nearby Mount Yoshina one of, if not the BEST place to view the cherry blossoms. Oh, and one more thing - the hordes of wild deer. Where else in the world can you find deer tame enough to pose for a selfie?
Travelling in Japan comes with its perks. You could be testing out the weird and wonderful offerings of the city that never sleeps in Tokyo, or roaming the streets with Geisha on a fine evening in Kyoto. But there are so many other places to travel and explore in this wondrous country. One of them, is Nara.
When it comes to animal islands in Japan, Nara is up there with the best of them. Nara's most iconic spectacle will always be its zany inhabitants. They don't take kindly to hugs, nor do they take prisoners when it comes to food, but these revered creatures are said to be the spiritual messengers of the gods.
The most charming thing about these magnificent creatures is their act of bowing. No, the queen isn't standing behind you, what they're really after is a tasty treat. Carts around the park will be happy to trade you ¥150 for a packet of delicious deer waffles. If you're carrying around a map of the park or some random tourist paraphernalia, they're happy to steal it and eat that too.
How to get to Nara Deer Park - Take the train from your destination to Jr Nara or Kintetsu Nara station. Nara park is a short walk from both. Before you even reach the grass you will be greeted with (or head-butted by) deer.
Where to stay - It's a pure treat to stay at the Nara Deer Park Inn. You'll wake up right inside the park, and if you're lucky you'll catch groups of deer staring at you right from your window.
Want to tour Nara like a local? Choose the best tour HERE.
Miyajima Island Deer
Whilst there are more famous attractions on Miyajima (Itsukushima island) such as the giant red Torii gate that attracts visitors from far and wide. The resident deer provide some much-needed entertainment here too. Just as curious and skilled at thieving.
Top Tip - Don't forget to take a pit stop at

BAKE

! Just inside Hiroshima's main train station is Bake, the home of Japan's most delicious cheese tart. This little discs of goodness are delicious. Grab a box of two for yourself - or play it safe and double up. The deer are very partial to a delicious cheese snack, and they will try to steal it when you aren't looking!
Take a fantastic private tour of Miyajima Island HERE.
Fancy a private rickshaw tour to Itsukushima Shrine? Find it HERE.
Cat Island - cats, cats, and more cats on Aoshima and Tashirojima
If you have a decent amount of time to travel around Japan, you live there, or have a fascination with animal islands that's just impossible to satiate, Japan's cat island's might just be the thing for you.
Aoshima - There are actually a few islands in Japan that are home to thousands of sacred cats. Although, some are easier than others to access. You'll find Aoshima in Ehime prefecture, otherwise known as the most famous 'Cat Island' in Japan, where cats make up 6 times the human population! Talk about ameowzing.
This is one that's really only for extreme animal Island Japan lovers, and cat lovers, as there are very limited transport options to get to and around the island. There is a ferry that goes to and from twice a day, but as the island is mostly home to elderly residents who take care of the cat population, it's not exactly a tourist hotspot.
How to get to Aoshima Cat Island:
06:04 Depart from Matsuyama Station on the Yosan Line
07:16 Arrive at Iyo-Nagahama Station
07:20 Purchase tickets at the Aoshima Boarding Area, about a 2-minute walk from Nagahama Station
08:00 Depart on the Aoshima boat
08:35 Arrive at Aoshima
Leaving the cats (sad face)
16:15 Depart from Aoshima Port on the Aoshima boat
16:50 Arrive at Nagahama Port
17:34 Depart from Iyo-Nagahama Station
18:30 Return to Matsuyama Station
Tashirojima is another famous cat island, it is a small island off the coast of Ishinomaki, Miyagi Prefecture. The story here is that the island used to raise silkworms. Silkworms attracted mice, and mice naturally attracted cats, and so the legendary cat island came to be. The cats here are loved by the locals, and even have their own shrine in the centre - Neko-jinja.
To get to Tashirojima:
Take the Ajishimaline (40 min) cruise from Ishinomaki Port and get off at Nitoda Port of Tashirojima (2-3 round trips a day depending on the season).
To get to Ishinomaki port, take a bus from JR Ishinomaki station.